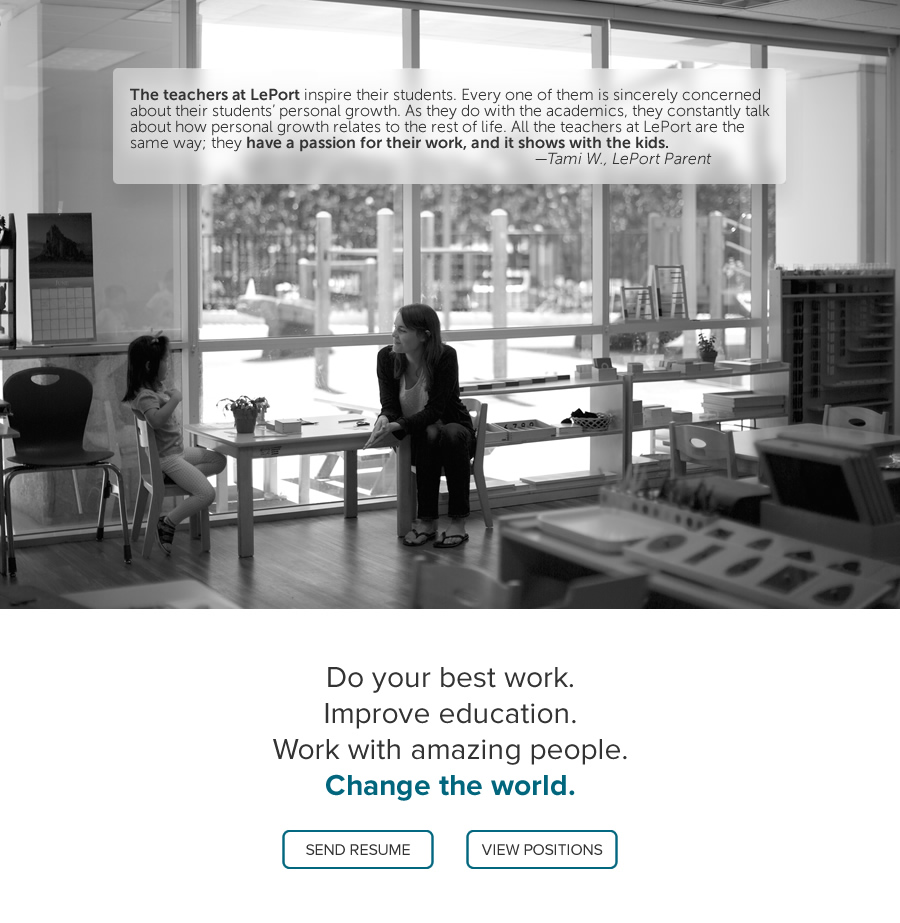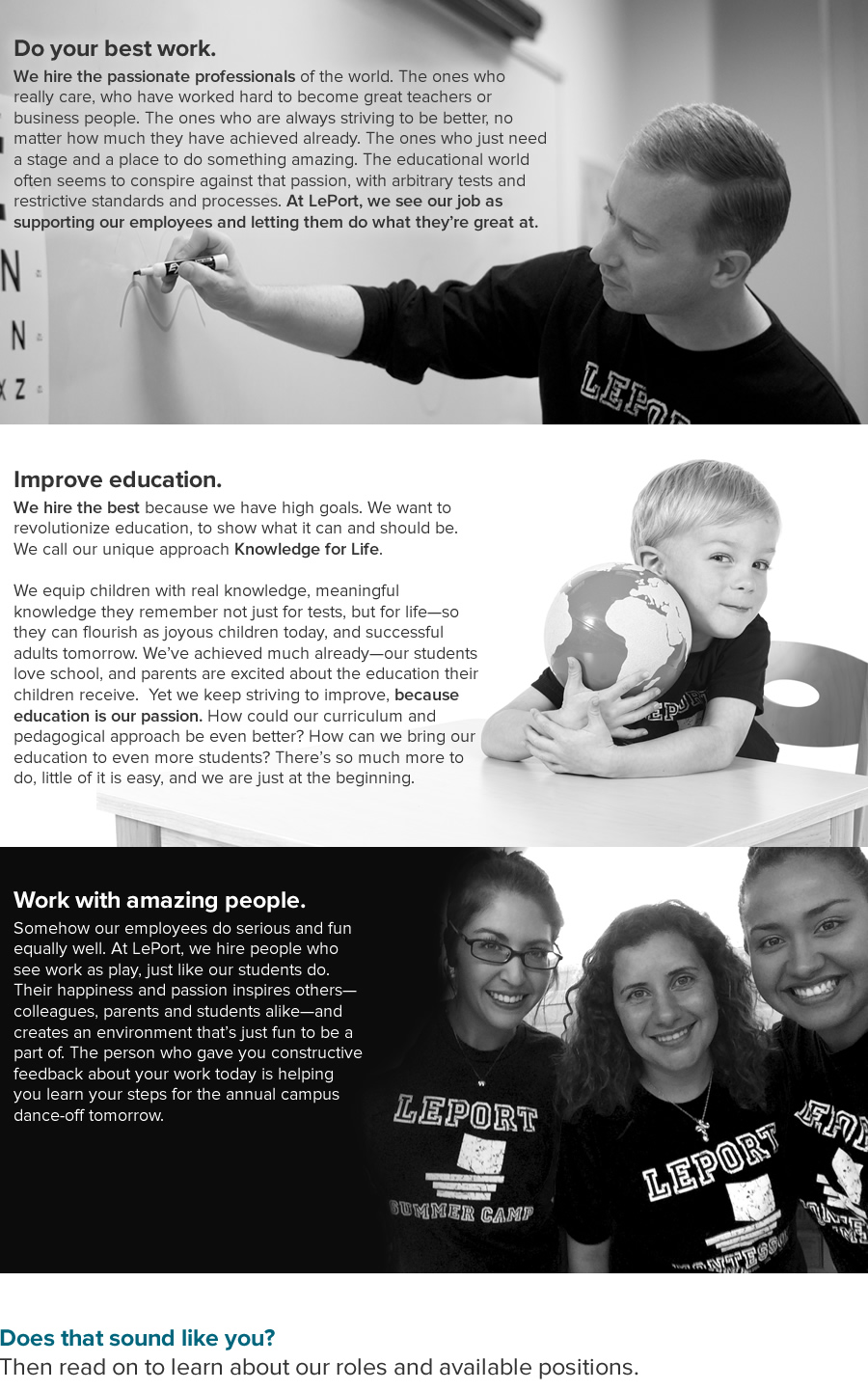 Montessori Head Teachers
We hire experienced Nido, Toddler, Primary, and Lower Elementary Montessori Guides who have completed one of the intensive training programs offered internationally by the Association Montessori Internationale (AMI), the gold standard in Montessori training. We look for positive-minded individuals whose joy pervades the classroom, and whose boundless enthusiasm inspires their colleagues. If you have Montessori training other than AMI, we would still like to talk with you. Sometimes we sponsor applicants for AMI training; sometimes we have other positions that require Montessori training.


Montessori Junior Teachers
If you are a newer graduate from an AMI training program, who is still looking to build practical experience before leading your own classroom, our Junior Teacher Program may be for you. We pair you up with an experienced Mentor Teacher, in a larger children's community that also has an Assistant Teacher. Over the course of your first 6 months to a year, you gradually take on more and more ownership in the classroom. Usually, Junior Teachers move to their own classroom within 6-18 months.


Montessori Assistant Teachers
If you love to work with children, and have the basic training needed to be a preschool teacher in your state, you can join our team as an assistant teacher. It is a fulfilling job, in a supportive environment—a place to make a difference in children's lives. It's also an opportunity for personal growth. At LePort, our best assistants have the opportunity to be sponsored for AMI Montessori training, become junior and head teachers, and make a passion for working with children into a meaningful, sustainable career.


Upper Elementary/ Junior High Teachers
History, Language Arts, Math, Science Positions
We hire fourth through eighth grade teachers who are passionate about their subject matter and have deep subject matter expertise. If you love History, Language Arts, Math, or Science, we want to know you. We don't limit ourselves to just credentialed teachers: we hire the best professionals, period, and help them become outstanding educators. With a limited course load—usually 2-3 classes per day, with just 16 students per class—our teachers have time for professional development—writing curriculum, observing other classes, receiving mentoring—and community building—playing with the students, interacting with parents, planning community events.


Academic Administration
Head of School, Administration Director, Administrative Support, Cluster Manager Positions
At LePort, children and parents are our customers, equally. A beautiful environment, caring, fast responses to parent concerns, a community spirit are essential to a great educational experience. If you love education, and have a business bent or area of administrative expertise, please apply! At LePort, you'll be able to bring your skills to a noble goal, unencumbered by the bureaucracy often found in public school or not-for-profit settings.


Head Office
Development, Human Resources, Operations, Outreach Positions 
LePort is a school, and a business. Our goal is to bring Knowledge for Life to ever more children and families. As a growth company, we are eager to meet professionals that help us scale a quality educational system.  Whether your expertise is software, finance, construction or marketing, we look for intelligent, independent, creative, energetic people who value education and share our mission. Our employees tend to be people who view their professional lives as a continual process of growth, who thrive on constructive criticism, and who are always looking for a new challenge.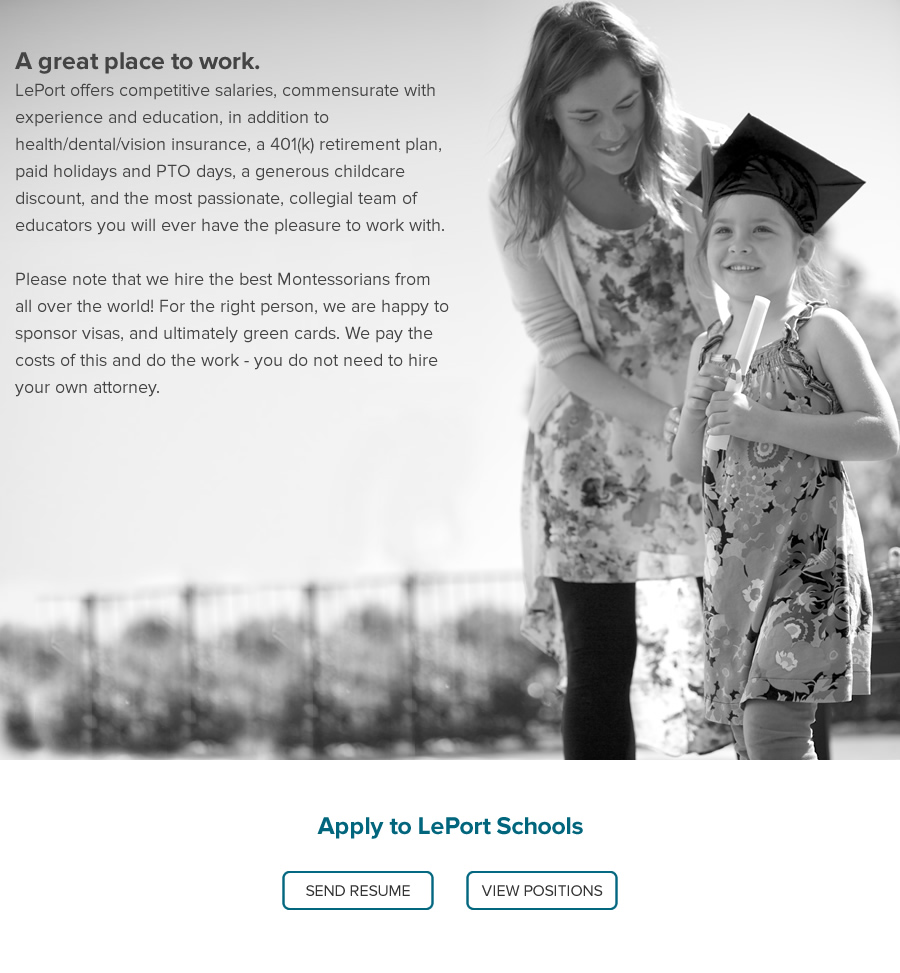 Teacher Gallery