Welcome to Encinitas' newest Montessori school.
If you are looking for an excellent infant, toddler, or preschool program, you've come to the right place! LePort Montessori School in Encinitas school is a welcoming, family-like community where children acquire Knowledge for Life: the essential knowledge, thinking skills, and strength of character required to flourish as joyous children today and successful adults tomorrow.
We recently renovated our school into an authentic Montessori community with nurturing teachers, responsive staff, and high-quality facilities and materials. Please join us at our upcoming events to learn more about our programs. Stop by on Thursday mornings from 8:30 am to 10:00 am for our Montessori coffee chats (no RSVP required), or join us every 4th Tuesday of the month for our Guided By Baby talks to get Montessori-inspired ideas for parenting infants. Or simply submit the form on the right to contact us for an individual tour: we'd love to show you around!
Enrollment at our school has been strong this fall. Our infant and toddler classrooms are mostly filled, but we encourage you to join our wait list for mid-year openings we expect as children to move up into the preschool program. A few spots still remain for our bilingual, Spanish/English preschool/kindergarten classroom.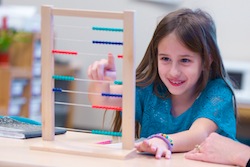 A high-quality, authentic Montessori program. Did you know Montessori isn't trademarked, and that schools vary widely in quality—but only high-fidelity programs deliver the outstanding results Montessori is known for? Our program will be that authentic program, and we invite you to visit to see it for yourself. Tour one of our schools in Orange County and learn about how high-quality Montessori programs help each child to develop strength of character, joyfully master social skills, and learn many academic skills, including reading, writing and arithmetic.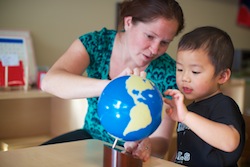 Highly-trained, nurturing teachers and staff. All of our head teachers have the most rigorous, year-long AMI Montessori certification. Our Montessori-trained Head of School supports teachers with individual guidance and regular classroom observations. Our trained staff is a great resource for all kinds of questions that parents have, from toilet learning to how to provide a positive discipline environment at home.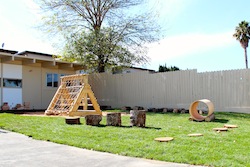 A beautiful facility, with bright, spacious classrooms and a large, natural playground. We'll be updating our classrooms with all new furniture, a full range of engaging Montessori learning materials, new paint and new floors. The playground will soon include lots of open grass, sand boxes, and logs for children to explore!
Learn more about our programs at the Encinitas campus: