To Consider What Could Be: Enter Exciting Worlds, Meet Heroic Characters, and Learn Moral Lessons Students Can Use to Guide Their Lives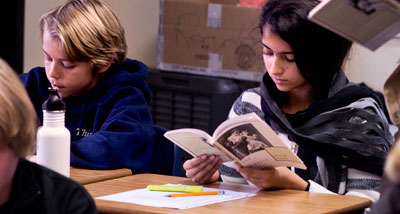 Reading great literature gives children the opportunity to enter exciting worlds, to meet heroic characters, and to consider what could be. While studying the classics of yesterday and today, students not only improve their thinking and communication skills, but also learn important moral lessons, lessons they can use to guide their lives. Our students learn about independence from To Kill a Mockingbird, integrity from Antigone, and heroic perseverance from The Miracle Worker.
In overcoming her fear of attending overnight camp, one sixth grader said, "I'm just going to take the plunge and do it, as Mafatu [the lead character in Call it Courage] did!"
My daughter became a reader at LePort. Before she got to LePort, she almost never read. The summer before she entered LePort, I taught her grammar, so she could catch up with her class. She became very interested in spoken language, and then she started reading eagerly for class, and then on her own. She even delighted in correcting my grammar at times! To this day, I am surprised how often she'll just take a book to read – and by the level of what she chooses to read.