Welcome to LePort Montessori Irvine Woodbridge (Lake), a Nurturing Montessori Community.
Welcome to LePort Schools, where we equip your child with Knowledge for Life – the essential skills and knowledge he needs to thrive as a joyous child today, and as a successful adult tomorrow.
The Irvine Woodbridge (Lake) Campus is a neighborhood preschool, conveniently located right next to the Irvine Woodbridge shopping center. We invite you to discover our wonderful, nurturing Montessori programs for toddlers and preschool-aged children, in a home-like, cozy setting. We offer:
A home-like, safe, bright facility. Our preschool is a small, home-like building, with a warm, welcoming feel. Our recent renovations have added beauty and functionality to our school: New flooring and fresh paint complement our wooden furniture and attractive Montessori materials; key-pad locks at all gates restrict entry to authorized people and two-way radios, a finger-print sign-in system, blinds in all rooms also support the children's safety. Click here to see over 100 photos of children at work and play at our school!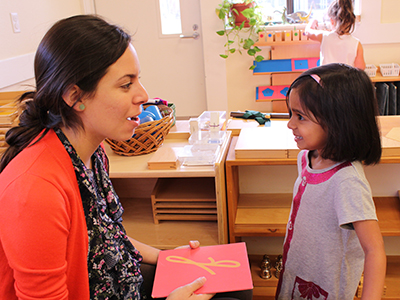 A highly-trained, nurturing, stable teaching staff. All of our head teachers have completed the most rigorous, year-long AMI Montessori certification, and many have been with us for years. Our Head of School, Mrs. Tompkins, brings with her over forty years of experience teaching and running Montessori preschools.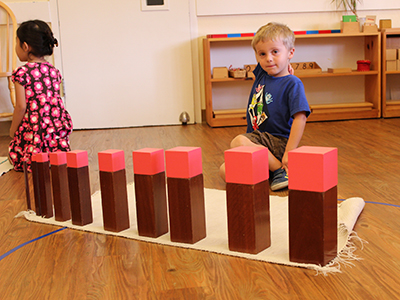 A high-quality, authentic Montessori program. Did you know Montessori isn't trade marked, and that schools vary widely in quality—but that only high-fidelity programs deliver the outstanding results Montessori is known for? Our program is such an authentic program, and because the Lake campus has been around for over ten years, your child will benefit from stable, mixed-age classrooms communities.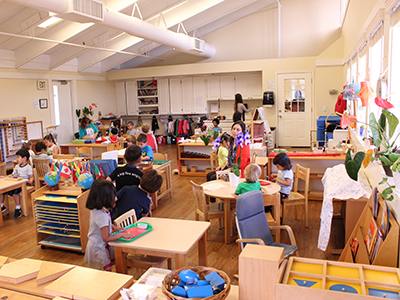 A welcoming community of engaged parents. Our families come from the neighborhood, and bring with them a wide range of ethnic backgrounds. Most importantly, though, they share a common aspiration of offering their children the best start in life by choosing an educational environment, not just daycare!
---
Learn more about our programs at the Irvine Woodbridge campus: