Registration for Summer 2014 is now open! Summer sessions start in July.  
View here.
Why Mommy & Me Montessori
Have fun with your child. See your child grow throughout the Parent & Child (Mommy & Me) sessions as she joyfully explores the Montessori environment, experiments with the Montessori materials, and discovers the children around her. Meet other parents. Eight families with similarly aged children join each Parent & Child session. Parents have the opportunity to socialize both in class and on the playground. Develop your parenting toolkit. The infant and toddler years are exciting, but also challenging. Montessori principles can help you make the most of this precious time. Each week, our trained Montessori guide will offer thoughts on topics that are on every parent's mind. Leave with practical tips for applying Montessori ideas at home. Try out the Montessori program. Parent & Child (Mommy & Me) Montessori is your chance to experience "Montessori in a nutshell." You and your child will be in a Montessori classroom, experience some of the typical daily activities, and learn from an experienced Montessori teacher. Seeing is believing: if you are at all unsure if Montessori might be right for your child and family, you'll have your answer after this class!
---
"I am a huge advocate of Montessori Parent-Toddler Programs. I loved the first program I attended with Caspar many years ago. There is only so much Montessori you can learn online and in books. Getting a first hand experience is invaluable. If you have a toddler and are even just slightly the littlest bit interested in Montessori I encourage you to check out a program near you." Click here to read more. Kylie, Montessori blogger
---
Parent & Child (Mommy & Me) Program Choices
Infant Mommy & Me (2 – 17 months) View Sessions Weekly topics such as nutrition, home environment, movement, order, sleep patterns, independence and language acquisition will offer you moments of clarity in parenting your little one. You will be with your child as she explores simple Montessori materials, joins circle time and participates in infant massage. You'll learn a great deal about child development to be used at home while making new friends in a "mom's group" atmosphere. Toddler Mommy & Me (18 – 36 months) View Sessions Weekly topics such as fostering independence, toilet learning, discipline, language acquisition and preparing the home environment for your active explorer will give you new insights into how you can optimally support your child's development. You will be with your child as she works with Montessori materials, enjoys arts and crafts, joins circle time, learns to serve herself snack and plays with other toddlers on the playground. You'll be able to make friends, find like-minded parents and toddlers for play dates, and learn much about child development, Montessori theory and practice. Intro to Primary Mommy & Me (2 years 9 months to 3 years 6 months) View Sessions The intro to Primary Parent & Child program is an ideal next step as you move toward the preschool age. It's a great way to try out the Montessori program, to help your child transition, and to learn how to apply Montessori principles at home with an older child. Each week, we'll explore a specific topic your child would encounter in the Montessori preschool program. We'll start with self-care skills, such as dressing and independent toileting, then move on to involving your child in food prep and ideas for independence in eating. We'll show you how to support sensorial exploration, arts, crafts, music and movement for preschoolers. Finally, we'll introduce you to some Montessori ideas around literacy and early number skills. You'll be with your child and guide him as he explores, always with the coaching and support of an experienced Montessori guide. After this class, you'll be better prepared to both apply Montessori ideas at home, and to help your child transition into our Montessori primary program. And, of course, you'll be able to make friends and find like-minded parents and preschoolers for play dates.
---
Parent & Child Program Details
General Program Information
Mommy & Me groups generally meet for 8 weeks, 1 ½ hours per week. Summer sessions run shorter; check the schedule for details.
Mommy & Me sessions start four times each year: February, April, July and September
Offered at LePort campuses in the LA South Bay/Palos Verdes area, Huntington Beach, Fountain Valley, Irvine, Northern San Diego area (Encinitas) and San Francisco.
Infant programs welcome children who are between 2 and 17 months at the start of the session; toddler programs welcome children between 18 and 36 months; primary programs welcome children between 2 years 9 months and 3 years 6 months at the start of the session.
Mommy & Me sessions are led by a consistent, experienced Montessori guide.
Each child attends with a parent or caregiver (nannies or grandparents are welcome, too!) Twins & multiples encouraged to attend with an adult responsible for each child.
---
Now Enrolling for Summer Parent & Child (Mommy & Me) Sessions Starting in July
The Parent & Child (Mommy & Me) program is offered at nine LePort campuses; see below for schedule details.
Registration is first-come, first served. Register early: past Mommy & Me sessions have filled weeks before the session starts.
Registration for future Mommy & Me Sessions will open approximately four to six weeks prior to session start. Future sessions are now scheduled through Summer 2015:

Fall 2014: 8-week session/September 22nd – November 15th
Winter 2015: 8-week session/January 26th – March 21st
Spring 2015: 8-week session/April 13th – June 6th
Summer 2015: 6-week session/July 6th – August 15th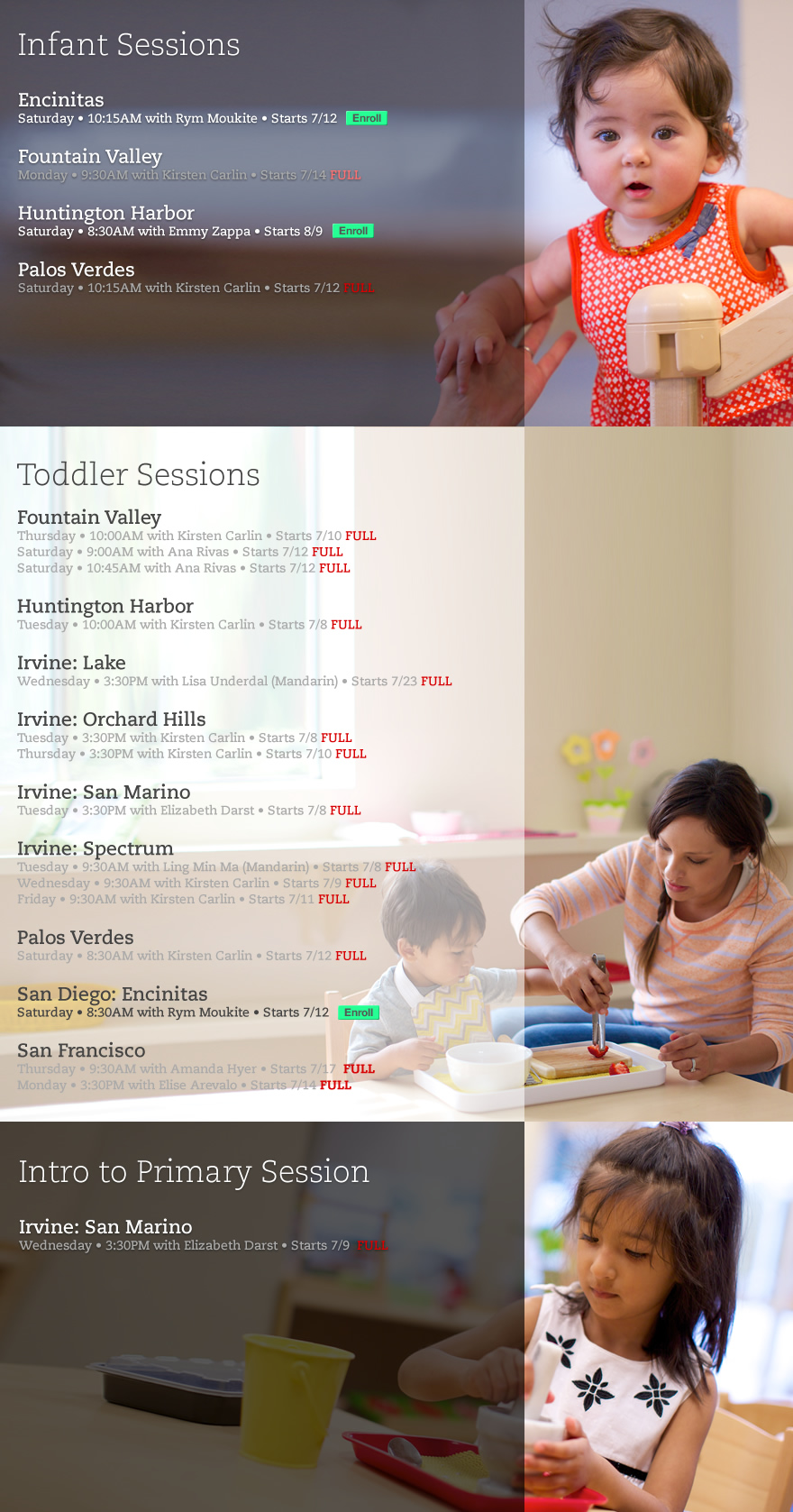 ---
Mommy and Me was a great opportunity for me to learn more about the Montessori approach. With this program, I got to see how Montessori preschool works in practice, what actually happens in class every day. I knew that once my daughter attended preschool, I wouldn't be able to be there with her and see what she does every day. It was great to be able to experience the Montessori program together, so I can relate to her world once she starts preschool at LePort this fall.
Gina G., Mommy & Me parent
---
Parent & Child Instructors
Elise Arevalo
Elise Arevalo is a Montessori Toddler Head Teacher. As an AMI Montessori Toddler Guide, Ms. Arevalo works with parents, infants and toddlers. She sees children from a holistic perspective and strives to respectfully nurture the potential in each child. Ms. Arevalo earned her AMI Assistants to Infancy diploma from Montessori Northwest in Portland, Oregon and her Masters in Education from Loyola University, Maryland. Prior to joining LePort, she worked as a certified educator of infant massage and infant craniofacial therapy practitioner. She is passionate about health and wellness and is also a licensed massage therapist. In addition to teaching, Ms. Arevalo enjoys yoga, meditation and nutrition. She finds joy in her work through singing, dancing and practicing yoga with the children in her classroom. She's excited to share her experience with families in the Parent & Child program!
Kirsten Carlin
Kirsten Carlin, LePort's Parent & Child Coordinator, received her B.A. in Political Science from the University of Alaska Anchorage in 1988 and her Infant/Toddler American Montessori Society Teaching Credential from the Montessori Education Center of the Rockies & University of Colorado in 1995. In 2010, she earned her Child Development Site Supervisor Permit from the California Commission on Teacher Credentialing. Ms. Carlin has extensive experience with the Montessori Method, with children of all ages, particularly infants & toddlers, and especially with parents of very young children. Prior to joining LePort Schools, Kirsten created Montessori infant & toddler learning environments in Alaska & Arizona before running her own First 5 CA grant-funded Montessori program in her home for children infant-primary (0-6). A parent of two girls who attended Montessori school before coming to Leport, Ms. Carlin is a strong proponent of the Montessori Method and enjoys sharing her love of early childhood with parents.
Elizabeth Darst
Elizabeth ("Beth") Darst is a Montessori Primary Head Teacher. She graduated in 1993 from Oregon State University with a B.S. in History and received her AMI Diploma from the Montessori Institute Northwest in 1995. She then taught at a Montessori school in Portland, OR for the next twelve years. Mrs. Darst grew up in Irvine and graduated from Irvine High School. She was very happy to return in Irvine with her family and friends. A mother herself, Mrs. Darst loves sharing the Montessori method with families in the Parent & Child program.
Amanda Hyer
Amanda Hyer has been supporting new and growing families in a variety of ways for over twenty years as a teacher, teacher educator, librarian, nanny, and parent coach. She holds a Masters degree in education and her AMI Montessori certificates from ages zero to three and three to six. She specializes in supporting parents as their children move from infancy through toddlerhood and into childhood. Parenting involves intuition, instinct and learned skills; when all of these areas are supported, parents can make the most of these precious times. Amanda focuses on supporting urban parents, helping them trust themselves and their children so the whole family can have a fun and fulfilling time together. She is also the mother of a preschool child who is thriving in a Montessori environment.
Jamie Kim
Jamie Kim, a Montessori Infant Head Teacher at LePort's Huntington Harbor campus, earned her B.A. in Mathematics for Secondary Education from San Diego State University in 2007. After having her own children, Ms. Kim soon realized her love and fascination for the very beginnings of child development. After learning about Montessori from a family member, Ms. Kim did her research which lead her to earning an AMI Assistants to Infancy Diploma from the Montessori Institute of San Diego. She lives with her husband and her two young children who both attend LePort. After guiding infants in her classroom, she is now ready to share her passion with parents through Parent & Child classes.
Ling Min Ma
Ling Min Ma will be the Montessori Toddler Head Teacher for our Mandarin Immersion campus opening Fall, 2014. Ms. Ma travels to us all the way from Beijing, China, where she received her AMI Montessori Infant and Primary diploma. Prior to joining LePort, she worked as a Civil Engineer and sales representative in property industry in Beijing. She eventually left the property industry and spent more than three years preparing herself for a teaching career. In the midst of her university training, she realized that her true passion was childhood education. Ms. Ma worked at the International Montessori School in Hong Kong, where she spent most of her time attending various seminars such as, Family Constellation and Parent Effectiveness Training. She believes in inspiring children to be creative thinkers, risk takers, confident, self-motivating, respectful, thankful and most of all successful. In addition to teaching, she enjoys art, hiking, going to the beach and learning about different cultures. She also loves to attend museums and art exhibitions. She is excited to share her love of both Toddler Montessori and Mandarin language with families in the OC through her Parent & Child classes.
Rym Moukite
Rym Moukite earned both her Primary and Assistants to Infancy AMI diplomas from the Montessori Institute of San Diego. Prior to joining LePort, she worked as a caregiver, nanny, assistant to infancy consultant, and as a guide at another Montessori school in Southern California. Ms. Moukite has worked with children for over 10 years and loves observing children learn. In addition to the Montessori skills she has developed over the years, Ms. Moukite is also fluent in English, Spanish and Italian. In addition to teaching, she enjoys photography, holistic nutrition, culinary arts, history and watching foreign films. She is excited to bring Parent & Child programming to LePort's new campus in Encinitas!
Ana Rivas
Ana Rivas, a Montessori Head Toddler teacher, was born in Peru. She studied child development and general education at Fullerton College. Later, she went on to pursue a biology degree at California State University – Fullerton as well as her AMI Montessori training from the Montessori Institute of San Diego. Ms. Rivas has been teaching young children, from infants to preschool children, for over ten years, and has been with LePort Schools since 2008. Ms. Rivas loves outdoor activities with her husband and two children, such as hiking, camping, and going to the beach. For her, the Montessori method is a way of life. She believes that empowering children to discover their own potential is the foundation of a successful society.
Lisa Underdal
Lisa Underdal, a Montessori Head Primary teacher, is a native of Beijing, China. She commenced her studies at Beijing Teaching University and is a graduate of Winchester School of Art, Southampton University, UK. A native Mandarin speaker, Ms. Underdal is also fluent in Cantonese and Shanghainese. She is a graduate of the Primary program at the Montessori Institute of San Diego, and is currently pursuing her M.Ed. in Montessori Education. After finishing her studies in England, Ms. Underdal lived in Denmark with her husband and son until they moved to the United States in 2000. Since 2003, Ms. Underdal has been teaching preschool and elementary-aged children. She has also taught art and painting classes for both children and adults. Ms. Underdal enjoys exploring the nuances of language, culture, and art with her students, and likes to create a fun and playful experience for them. In her spare time she enjoys art and painting, and loves to travel with her family. She is excited about guiding toddlers and their parents for the Mandarin Immersion Parent & Child program at our Lake campus before moving to the new Chinese Immersion program.
Emmy Zappa
Emmy Zappa is a Montessori Infant Head Teacher at LePort's Huntington Harbor campus.  Ms. Zappa was very active in Girl Scouts and sports growing up, playing competitive volleyball at the collegiate level for Santa Rosa Junior College. While there, she earned an Associate of Arts degree in both psychology and social & behavioral sciences and attained her Skills Certificate in Child Development: Associate Teacher. Ms. Zappa worked as a lead toddler teacher as well as with 3-6 year old children. Before joining LePort, Ms. Zappa also worked as the lead teacher in a Montessori infant program. She is currently working toward a bachelor's degree at California State University Long Beach (with a double major in Family Life Education and Early Childhood Development), as well as completing her Montessori Assistant's to Infancy credential this summer through the Montessori Institute of San Diego. She is eager to share her love for infants with local parents in the Parent & Child program!
---
Parent & Child (Mommy & Me) Photo Gallery